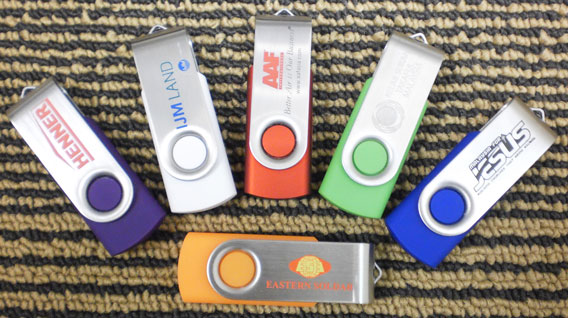 A while ago, the ultimate purpose of flash drives was to store your important and necessary data. You did not need to carry your laptop with you wherever you set off for your business deals or meetings or for any other reason, as you had the convenience of storing your information on a USB drive as an alternative. With enough memory USB flash drive, you did not have worry about the size of data you wanted to store on it. The flash USB drives are still effective for the same, but now they allow you more than just storing great amount of important documents, media, and other content you have.
When it comes to business promotions, there are a variety of promotional products that are effective forms of marketing and advertising. In last several years, some new marketing inventions such as promotional pens, personal organizers, and umbrellas have appeared to be revolutionary products in the business world. However, businesses and more significantly their consumers are always willing to get something more and of course something innovative. This perception takes them to another revolutionary invention known as promotional USB flash drives. This product has been praised as a wonderful marketing tool by large businesses, companies and organizations. Not only this, even mid-sized and small businesses use this little memory stick to promote their business to their existing and potential consumers.
Promotional USB thumb drives have come up as an outstanding marketing tool and are really worthwhile in giving you the best return on your investment. They are an extraordinary advertisement for products or services you're offering to your potential and existing customers. They help you securely transfer and swap bulky pieces of information quickly and easily between various people or groups. Your clients, workers, and business associates utilize their flash USB drives likewise. You can consider this growing marketing characteristic of your drive being offered and given out to your clients and the potentials on outcome.
The promotional USB flash drives can be printed in diverse colors on the case of the gadget that allows the company's advertisement. You may refer here for the type of branding options.Moreover, you can produce the cases in lots of different shapes and modified designs. You can achieve numerous benefits of a promotional USB flash drive; however, it is advisable to pick a promotional flash drive supplier that occupies quality materials and carries strong customization options so your ideas can arise with a design that flawlessly summarizes your advertising message.
The Promotional USB flash drives carry a valued aspect because these serve as the latest and truly effective method to convey your marketing message to your existing and potential customers, exchange the ideas between business associates, and serve various other marketing and business purposes.
In addition, The Promotional USB flash drives are cost-effective. They are not costlier than the traditional promotional products and have more worth for your customers, business associates, and overall business. Buying these drives in bulk is always a good idea to keep comparative expenses down and simultaneously get enough stock to hand out to your prospective customers.
In Malaysia, promotional usb thumb drive suppliers are referring as  " pembekal pen drive " or " pemborong pen drive" . There are two different type of vendors in thumb drives industry namely the wholesalers specially cater for promotional gifts and wholesalers of branded usb flash drives to local retail industry.

We are Malaysia leading  in supplying promotional usb thumb drive with Original Toshiba/Samsung Nandflash. Please contact us today for inquiries.